Friday, September 17, 2004
Barry Bonds' 700th Home Run: Hear It Here!
Reykjavik Or Bust!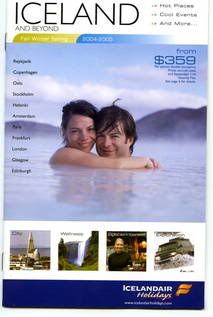 Our travel package from the Iceland tourism board arrived today. We are hoping to go next year, but am not sure when. I'd prefer going in the summer when Iceland has 22 hours of sunlight and whale watching (a family favorite) is at its best. It also would be easier if we could tack a trip to Iceland onto some sort of work trip to Europe. Since it seems like I am not traveling much to Europe for work these days that might be a tough one. No matter, we're going to Iceland at some point in the near future. Why? Looks like an awesome place for blogging.
Rosh Hashanah Winding Down
New Year, Day Two--So Far
Thursday, September 16, 2004
New Year, Day One
Wednesday, September 15, 2004
The Hour Approaches
Behind The Oprah Car Promotion
Sensitivity Training Needed
Tuesday, September 14, 2004
Going For #700
Chocolate Roulette
Trickle, Trickle
Not A Nominee For The Good Sportsmanship Award
Monday, September 13, 2004
Funny Stuff
Sunday, September 12, 2004
#699
More Walks On Sunday
Someone Moved My Heart
No Thanks, I Just Ate
Not In My House?