Saturday, September 04, 2004
Wandering Fools In Love
I guess what keeps a couple together for 21 years is a love of the same strange things. We're just back from a strange outing that really captures the odd joy we find together.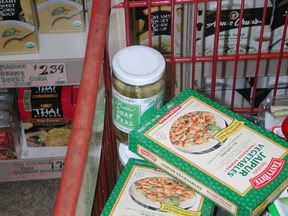 As previously mentioned, we were on a mission to find Trader Joe's pickled snap peas. We found a ton at the TJ's near our old house. This TJ's is in the Town & Country Shopping Center at 20th and Camelback. We bought a dozen jars of the peas (see above).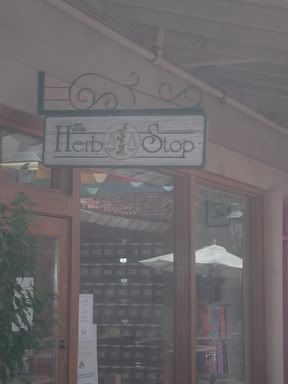 In the same center, we found a cool little store called
"The Herb Stop."
The place had a mind-boggling array of herbs—tea, spices, healing herbs, etc… I scored some great white tea and Hawaiian Red Sea Salt. We'll be back.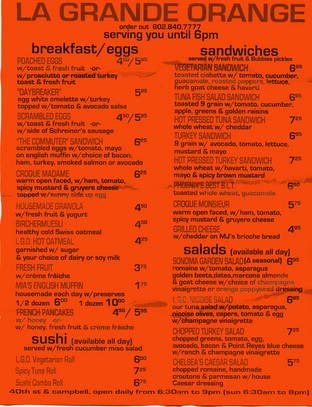 From there, we headed to this amazing bakery/gourmet food shop that is at the corner of 40th & Campbell: La Grande Orange. We think we might have seen a Phoenix Sun player in there, but he was only 6-4 or 6-5 given my height. LGA (see above) is something out of Soho in New York or San Francisco: artisan breads, amazing deli good and pizzas that are regarded among the best in Phoenix. La Grande Orange (which, BTW, was the nickname of former Montreal Expos player
Rusty Staub
) is in the process of opening up a pizzeria at that location.
Last stop was Whole Foods for a quick bite and some fixings for Sunday dinner.
Upon arrival home, a dozen Proflowers roses were waiting for the anniversary girl; the attached card had a really bad typo, and when I checked, I made the typo in the online card. The typo will be a great source of family humor for years to come.
Lastly, we got a lovely gift and card from our daughter. A great day all around and we haven't even made it to the Wiener Dog Races.
Friday, September 03, 2004
Yet More Fun Hijinx From Germany
Cards, Gifts & Wiener Dogs
Can't Figure This Out
They Will Ask In Years To Come, "What Was Network TV?"
And Their First Song Will Be The Devo Classic
Thursday, September 02, 2004
Pitch To Barry
And Several Portland Trailblazers Were Nearby
More Baseball For Arizona?
Sad Byproduct Of Fame
No Record For Ichiro
Wednesday, September 01, 2004
Bumbershoot
Why Are These Stories Always Datelined Germany?
For Fans Of "The Freshman"
Guess Ted Isn't Working
City Of Brotherly Wireless?
Yanks Lose Big
Tuesday, August 31, 2004
We're Losing Our Focus
A Good Reason To Cut Class
Emailing Your Way Out Of the Closet
Monday, August 30, 2004
Laura Branigan Dies
Greed
Bring On The Ads!
Sunday, August 29, 2004
Baseball Weekend Recap
Home Stretch